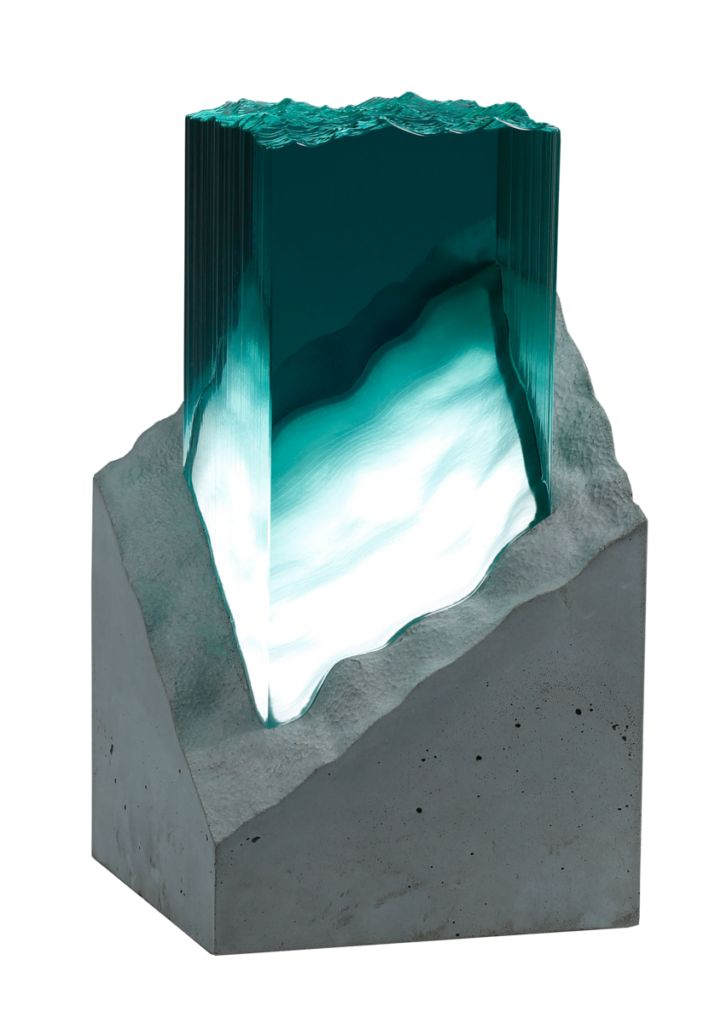 Residing in Mount Maunganui, New Zealand, Ben Young is a self-taught artist who has been working with the materials of glass, concrete and steel since setting up his studio in 2011 and has exhibited alongside well-known glass artists both internationally and in New Zealand. 
Having spent most of his life living in the beautiful Bay of Plenty (North Island, NZ) it seemed natural for him to explore the local landscape and surroundings for early inspiration in his art. A keen surfer and a boat builder by profession, he is largely influenced by the ocean and brings these passions together in his evocative glass forms. His time spent in nature is integral to his making process. His fascination with the translucent and fluid nature of glass led him to the exploration of the medium. His practice explores the relationship between man-made structures and the natural world. Fascinated by the contrast between the organic forms found in nature and the geometric shapes of our built environment, his work seeks to bridge these two seemingly disparate worlds.
Intrigued by the way that nature and architecture coexist, he seeks to capture this balance in his work. Each of Young's sculptural works are hand drawn, hand cut and handcrafted from clear sheet float glass, then laminated layer upon layer to create the final form. He constructs models, draws templates, makes custom jigs and then cuts the layers with a glazier's hand-tool. The complexity comes from the planning phase, where he says 'I do a lot of thinking before I even start to draw or cut'. He then sketches the concept by hand and creates a plan using traditional technical drawing techniques: 'I work with 2D shapes and have to figure out how to translate that into a 3D finished piece. Sometimes my starting point changes dramatically as I have to find a way to layer the glass to create certain shapes.' 'The way I use the glass enables me to portray so many different elements of my conceptual ideas', he says. 'Lighting plays a large part in the presentation of my pieces.
When lit from beneath, the light reflects and gives off the illusion of the piece being brought to life. I hope viewers might imagine the work as something "living" that creates the illusion of space, movement, depth and sense of spatial being. I like to play with the irony between the glass being a solid material and how I can form such natural and organic shapes.'